What Does 2021 Have in Store for Home Values?
According to the latest CoreLogic Home Price Insights Report, nationwide home values increased by 8.2% over the last twelve months. The dramatic rise was brought about as the inventory of homes for sale reached historic lows at the same time buyer demand was buoyed by record-low mortgage rates. As CoreLogic explained:
"Home price growth remained consistently elevated throughout 2020. Home sales for the year are expected to register above 2019 levels. Meanwhile, the availability of for-sale homes has dwindled as demand increased and coronavirus (COVID-19) outbreaks continued across the country, which delayed some sellers from putting their homes on the market.
While the pandemic left many in positions of financial insecurity, those who maintained employment and income stability are also incentivized to buy given the record-low mortgage rates available; this is increasing buyer demand while for-sale inventory is in short supply."
Where will home values go in 2021?
Home price appreciation in 2021 will continue to be determined by this imbalance of supply and demand. If supply remains low and demand is high, prices will continue to increase.
Housing Supply
According to the National Association of Realtors (NAR), the current number of single-family homes for sale is 1,080,000. At the same time last year, that number stood at 1,450,000. We are entering 2021 with approximately 370,000 fewer homes for sale than there were one year ago.
However, there is some speculation that the inventory crush will ease somewhat as we move through the new year for two reasons:
1. As the health crisis eases, more homeowners will be comfortable putting their houses on the market.
2. Some households impacted financially by the pandemic will be forced to sell.
Housing Demand
Low mortgage rates have driven buyer demand over the last twelve months. According to Freddie Mac, rates stood at 3.72% at the beginning of 2020. Today, we're starting 2021 with rates one full percentage point lower than that. Low rates create a great opportunity for homebuyers, which is one reason why demand is expected to remain high throughout the new year.
Taking into consideration these projections on housing supply and demand, real estate analysts forecast homes will continue to appreciate in 2021, but that appreciation may be at a steadier pace than last year. Here are their forecasts:What Does 2021 Have in Store for Home Values? | MyKCM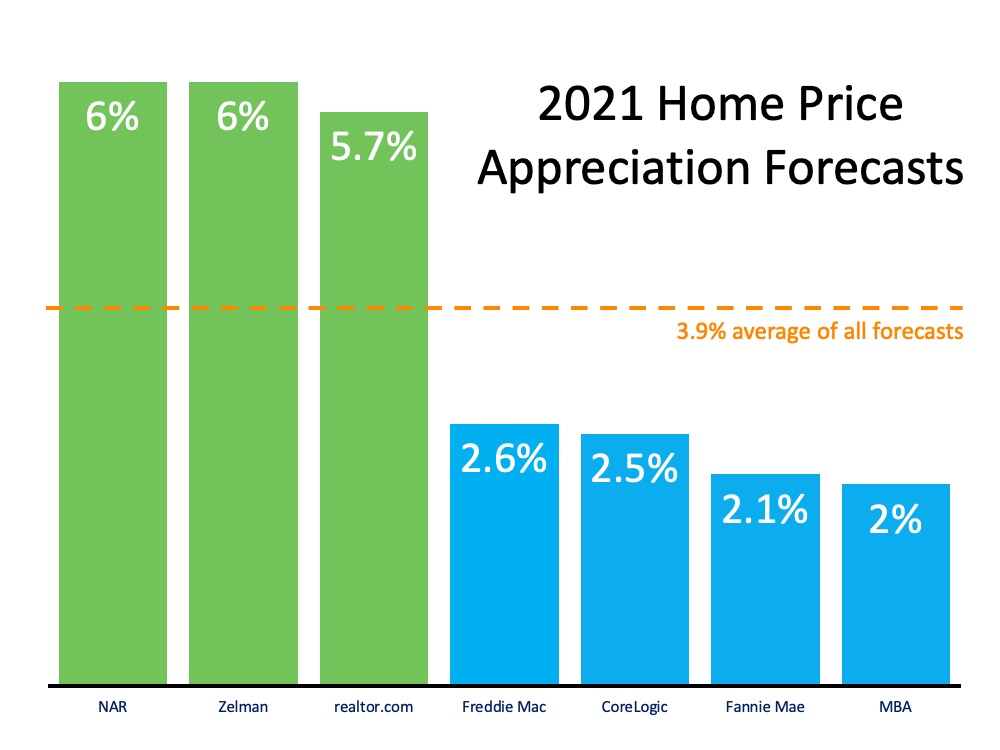 Bottom Line
There's still a very limited number of homes for sale for the great number of purchasers looking to buy them. As a result, the concept of "supply and demand" mandates that home values in the country will continue to appreciate.
Testimonials
" This Condo was a property that I acquired when the market was hot, only to have it crash horribly soon after. I did not wish to destroy my stellar credit rating (so could not simply walk away from it) nor could I afford to support a non-producing property. As you might imagine having a rental property in Canton while living in California may not have been the easiest thing to handle logistically. However, I had the very good fortune of being introduced to Bruce Webb not long after I acquired the property. And during the 11-12 years that I owned my Canton Condo, Bruce was always my go-to-guy. Bruce was able to successfully locate excellent tenants, arrange for repairs, and in the end the sale of the property. I'll put it this way: Bruce has the required skillset and local network to have made my life much simpler than it might have otherwise been. Thank you again Bruce for the many times you stepped up and provide the service I needed, when I needed it. And I might add, always at a reasonable price. To anyone reading this: in my opinion "Bruce IS YOUR GUY"- there is no need to look further. "
- Steve, Home Seller
" Bruce Webb is an experienced, knowledgeable realtor. He is qualified to help anyone buying or selling a home, but does an exceptional job at assisting seniors with their realty needs. He is upbeat, energetic and definitely likes to help people. You can't go wrong with Bruce "
- Keith
" Bruce has been our realtor for over 20 years and about 5 homes. He has always done a great job for us. He is extremely professional, knowledgeable, and personable. He is fun to work with and I can always trust what he tells me. Unlike many, he responds quickly and communicates often. That is a great advantage whether I am selling or buying. I would highly recommend him and his team. You won't find anyone who will work harder for you while being totally honest and trustworthy along the way. Thanks, Bruce! "
- Jim, Home Buyer & Seller
" "Bruce and his team were very professional and knowledgeable. He was reassuring and easy to work with and took time to explain things. He made what was a difficult transition for me, much easier. I would highly recommend him to my family and friends! A great guy to work with!" – Karen, Home Seller "
- Karen, Home Seller
" "Our experience with Sarah King and Bruce Webb was very pleasant. Sarah was always available when we needed her, day or night. They wasted no time finding us a home. We would definitely recommend this team to anyone looking for a Realtor." "
- Rose, Home Buyer
" I wanted to give a recommendation for Bruce. I know business people are out there saying whatever you need I will be here for you. What I like most about Bruce is he really means it. Any time I have had a problem even if it isn't Bruce's specialty he has been able to help me out. I love the fact that I can call him up about anything and with the long list of people he networks with he can pull a solution out for me. If you haven't had the chance to meet Bruce I recommend that you do. If you are trying to sell your home yourself save yourself a lot of hassle and time and look into having Bruce help you! "
- Becky, Home Buyer
" Bruce Webb did an awesome job as our realtor! He sold our house in two days, and for more than the listing price. We were very impressed that the process went so smoothly. He also helped us to find our beautiful new home, and we have been absolutely delighted with it. I highly recommend Bruce Webb and his team to anyone looking to buy or sell a home in the western Wayne County area. You will not be disappointed with Bruce, he is a top-notch realtor who is a pleasure to work with! "
- Heather, Home Seller & Buyer
" Sarah helped with our move from out of state. She was knowledgeable and professional from beginning to end. We'd recommend her to anyone looking for a referral. "
- Mike, Home Buyer
" I never interacted with Bruce Webb at all, but Sarah King was our realtor and she was absolutely wonderful. She found us many houses that met our desires and helped us snag our dream home even after we thought it had slipped away. And even through a difficult process of switching lenders partway through, she made sure we got everything done as quickly and easily as possible. I would recommend Sarah King to anyone who is looking to buy a home in our area! "
- Adi, Home Buyer
" "Thank you, Bruce! You never gave up even when we might have. You always believed that someone special would buy this house we held so dear to our family thank you for your patience and diligence in finding that special family. You have an amazing team that you should be proud of." "
- Darlene, Home Seller
" Bruce Webb was awesome, stuck with us for over a year, and went to multiple houses. Put offers on a couple of houses until we finally landed the right on. Bruce does everything you for and makes the process as simple as he can. Definitely, recommend. "
- Bryton, Home Buyer
" "Bruce and his team were diligent in researching the area and determining a good price for the home, explained his process, and listened to our expectations and needs. He was friendly and professional, answered phone calls and questions quickly, and took the questions seriously. He offered advice on preparing the home, and also provided potential contractors to complete repairs. All the paperwork was prepared correctly, he explained each section completely so there were no surprises. When there were problems with the buyer's original mortgage company, he was able to direct the buyer to another lender, and the deal went through. Closing was done efficiently and painlessly. Bruce and his team were very good to work with, and I would definitely contact him with my real estate needs. Note: also specializes in helping elders renovate their homes to extend their ability to remain in them." "
- Laura, Home Seller
" "Bruce is a detailed, experienced, and professional employee. He was able to provide exceptional solutions and understand new home buyer questions/needs. I sincerely appreciated his candor and help through the entire home buying process. His performance with sales and customer service makes him an asset to Preferred Realtors!" "
- Alex, New Build
" Sarah, I wanted to thank you for your time and effort in helping me and my parents find a home for me. You were very courteous and reliable. My previous realtor was not, compared to what you and your team provided. Your referrals were also helpful, especially the mortgage company. Again, my previous loan officer was not reliable, I know it is your job…but it seemed you really cared about what is best for me. I will always remember this experience and share it with others. Even though this is my first experience buying a home, it was one of the best experiences in my life. Keep up the good work and I wish you and your team the best! "
- Tim, Home Buyer
" "My first experience with Bruce was as our buying agent, he negotiated a hang-up that could have lost us a deal on a house. My second experience was more than I expected from any Realtor. After I sold my home using him as my selling agent he followed up with me to make sure all the financial issues were taken care of. I moved to another state and needed advice on buying a house there. I called him and he was very helpful and concerned about the issues that I faced in the new state. He is more than just your Realtor." "
- Martin, Home Seller
" "Sarah was wonderful and was very concerned about finding what I wanted. We found the house I bought during the first two weeks of looking. She handled everything for me and was very professional. She never pressured me or made me try to go higher than I wanted. I was very appreciative of that. I know many realtors who try to get you to go out of your comfort zone, Sarah never made me feel anything but excited." "
- Kassie, Home Buyer
" "Bruce is an honest, hardworking realtor with his client's best interests at heart. I have utilized his services three times now for houses. He is a consummate professional. I will continue to use Bruce for my real estate needs." "
- Curt, Home Buyer & Seller
" Bruce (and team) helped us thru the process of selling and buying a new home. He is thorough, kept us informed, and always willing to work with our schedule. I definitely recommend them if you would like a smooth transaction. "
- Ted, Home Seller and Buyer
" The Bruce Webb team was great to work with. Bruce looks after his clients like family and shows himself to be very trustworthy, reliable, and knowledgeable and does the best for you! We personally worked with Sarah King, who was amazing and got us our dream house! Thank you for all your hard work. "
- Melissa, Home Buyer
" "Sarah was wonderful to work with from start to finish. She was extremely responsive (days, nights, weekends), which was very important to us due to the time crunch we were in to find a house and close. She showed us more than a dozen houses in a short time frame and made us feel comfortable during each showing. We felt that finding us our dream home was her first and only priority. As first-time home buyers, we were new to the buying process and she explained everything thoroughly so we could understand and make the best decisions for us. Once our offer was accepted she handled everything on her end and with the bank very efficiently and kept us in the loop the entire way. I would recommend Sarah to anyone looking to purchase a home, especially first-time home buyers! Thank you, Sarah, we couldn't be happier in our new home!" "
- Whitney, Home Buyer
" Bruce treats his clients like they are family. His interaction with them does not stop at the end of the sale. He will not leave you with any unanswered questions. "
- Sharon
Previous
Next