Apart from appliances and gorgeous countertops, there are other features that make your kitchen renovation complete. Click through for 17 can't-live-without items for your new kitchen.
As the saying goes, the kitchen is the heart of the home. For those who frequently entertain, you know the one place guests gather in the most is the kitchen. So, when it comes to reviving or remodeling the central artery, form and function are critical, but what about the extras?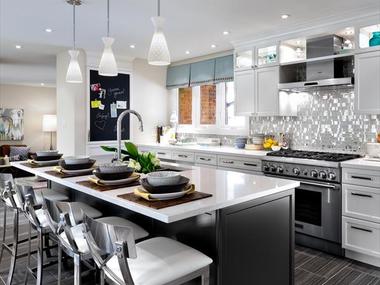 It's easy to focus all of your attention on the design and appliances, but this is also the time to integrate other upgrades that make your kitchen special. Here are 17 additional items to ponder.
A pass-through space from the kitchen to the entertainment zone to save time and prevent dropped dishes.
A dedicated ice maker for cold and blended drinks. These are very handy in the summer months.
Charging stations for electronic devices via outlet strips or an exclusive counter top space. Reduce clutter and frantically searching for your phone or tablet.
Consider a beverage fridge for adult beverages or the kids' favorite flavor.
Recycling drawers to keep plastics and cardboard out of sight until pickup day. Also, trash drawers keep it out of sight and away from kids or pets.
Additional electrical outlets, either in the wall or power strip form are always helpful.
Changing out lighting for more energy efficiency versions, such as LED lighting, which costs less to run and doesn't produce as much heat as traditional bulbs.
An on-counter air switch for the garbage disposal. There is no electrical connection from the disposal adapter to the air switch button – a rubber airline connects the appliance with the control.
A conversation inspiring sink is never a bad idea. We often hear the benefits of having a farmhouse sink.
Additional seating options for guests and the kids. An extended countertop as a breakfast bar is one example.
Patterned floors add dimension and visual interest; you can even choose vinyl in unusual patterns.
Skinny cabinets for baking sheets or cutting boards.
Rolling racks or a lazy susan adds more storage options for corners or remaining space.
Self-closing drawers for future finger safety. These are the choice for families with toddlers.
Touch faucets are must-haves for chefs who regularly juggle ingredients or raw proteins. Plus, they are fun to use.
Warming drawers or double ovens mean no portion of the meal is served cold. They are particularly useful when cooking for large parties.
Toe-kick drawers that take up the space between your standard bottom cabinets and the floor. These add extra storage to the kitchen and eliminate the need to sweep dust bunnies.